What makes a Vistabule so appealing?
Well, they're small and cute!
But more than that, teardrop campers are an economical and a simple way to travel through the natural wonders of this great country. Originally, teardrop campers were born of the need to survive the Great Depression. People were losing their homes, their jobs. En masse they migrated across the country looking for greener pastures. They may have lost their homes and their livelihood, but somehow they held onto their old jalopy and cobbled together a small trailer that could shelter them in their travels to the new world.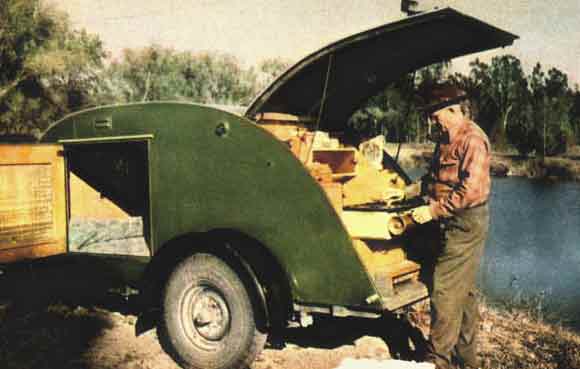 Teardrop trailers are a fad that has lasted since the 1930s.
This was the time of the Civilian Conservation Corps (CCC). They built our roads, bridges and infrastructure. They built our National Parks and their marvelous lodges. Little trailers, hard work and hard times made these beautiful vistas that we treasure today. One way to experience these wonderful treasures is in one of our custom teardrop trailers.
Bert discovers Teardrops.
Bert Taylor, Vistabule's owner and president, loved old-fashioned trailers, and after a friend told him to Google "teardrop trailers," he found his calling. Bert set out to create a custom trailer that was welcoming and not claustrophobic, the type of space people would want to live in. Within a year he had designed and hand-built his first trailer. After he was satisfied, he took the trailer and his wife on a "shakedown cruise to the Grand Canyon." It was a successful and informative trip, and Vistabule was born.
A room with a view, a window to the world. It's a Vistabule!
It's been six years since that first trailer. Vistabule has grown immensely. Taylor now has ten employees and has made custom teardrop trailers for people from as far away as California and Texas. The trailers are fully-customizable, from the exterior color to the interior finishes. Customers can choose to add a propane furnace, a fridge, even solar panels. These customizable features help the customer purchase not just a trailer but, what Vistabule General Manager Steve Corcoran calls, "a tool to fulfill a dream." Even better, the trailers are Minnesota-made, with CNC routing done in Scandia, welding in northeast Minneapolis, and laser-cutting in Plymouth. Then everything is assembled at our factory in Saint Paul.
Even over the phone, Taylor's love for his business is palpable. He calls his customers family and describes the "warm and fuzzy" feeling that happens when he hands over the keys to a new Vistabule. He says, "I'm very lucky, at my age, to be engaged in something so Amer-Iconic, so tied in with our national and state parks, so steeped in rediscovering the ethos of America's natural wonders". "I imagine myself, in my vintage Jeep, towing my Vistabule camper, over the horizon, to some unknown adventure".