Outdoor and camping enthusiasts are increasingly turning to teardrop campers as a way to get outside and enjoy nature while still maintaining many of the comforts of home. Lightweight and easy to haul behind most vehicles with a hitch, modern teardrop campers can have many of the amenities you could find at home, at a fun cabin, or even in a swanky hotel.
These small-but-mighty towable homes have a very distinct, iconic look. And while some larger recreational vehicles try to mimic the unique curved shape, one thing that makes a classic teardrop camper special is its small size. Most teardrops generally come in two sizes: 4' x 8' or 5' x 10'.
Another important distinction between classic teardrop campers and their larger counterparts is the absence of a bathroom, shower, or indoor stand-up space. While some campers do include these amenities, we wouldn't consider these to be traditional teardrops.
Fortunately, the camping world has been busy solving this problem for tent and teardrop campers for years. Bathroom and privacy shelter solutions range from shared campground facilities when available to remote camping options - simple popup privacy shelters, sun showers, portable hot water shower systems, and portable bathroom systems. Although we don't offer these products ourselves, we're always happy to share ideas and recommendations.
Today's teardrop campers usually have some basic features fashioned in a standard layout, which typically includes a sleeping area for two people inside the cabin with a rooftop vent and access doors, as well as a galley off the back end with some simple storage spots, and space for kitchen amenities.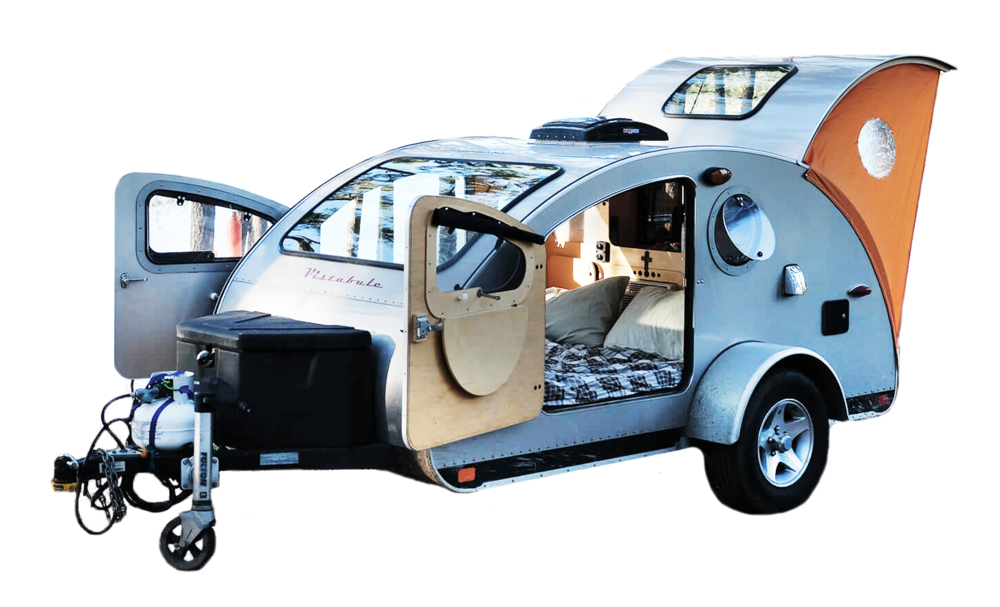 "These small-but-mighty towable homes have a very distinct, iconic look. And while some larger recreational vehicles try to mimic the unique curved shape, one thing that makes a classic teardrop camper special is its small size."
Custom Teardrop Camper Interior Options
Modern teardrop campers have an almost limitless number of design and amenity options. What's more is that the combination of features you choose is completely customizable. For example, the Vistabule "basic" package includes a convertible sofa bed, multiple windows, storage in the headboard and under the bed, a collapsible sofa and door tables, interior and exterior lighting, and more. Every part of a Vistabule camper is designed with space efficiency and functionality in mind.
Many features include multiple benefits or uses. For example, the queen-sized bed can convert into a couch, giving you more options for more space or relaxing. Flip-up door tables double as side tables for the bed, and under-bed storage bins provide abundant space while doubling as footwells when in sofa mode.
On top of that, Vistabule customers can customize their camper down to the tiniest details, from plumbing to electricity to custom cabinetry.
The Vistabule Galley Kitchen
Are you a passionate cook? With our kitchen options, you can bring gourmet meals to the great outdoors. Add a two-burner propane cooktop and there's no limit to what sort of feasts you can dream up. In addition, we offer a fresh water supply system that includes a nine-gallon water tank, pump, sink, faucet, and sprayer. You can also add a pullout cabinet which conveniently fits an ice cooler or small refrigerator to keep food fresher for longer, a three-drawer cabinet with a breadboard for preparing food, as well as additional storage for kitchen utensils. When it comes to galley customizations, we can create a kitchen any chef would be envious of – right down to the color of the countertop laminate.

Vistabule Teardrop Trailer Interiors
Here are some of our other teardrop trailer parts features that bring the comforts of home to your camping experience – no matter how far off the beaten trail you want to go:
Propane Furnace – Perfect for when the nights start to turn a little colder, this high-powered furnace helps ensure you stay cozy and comfy while you make the most of your camping season. Plus, you can even extend the months that you can camp because you never have to worry about sleeping in the cold.

Rooftop Solar Panels – These are a popular option for many campers who want to have the power to keep most things running but still have the flexibility to explore and stay in more remote, off-grid locations. With these flexible rooftop panels, you get a continuous supply of 12V power literally anywhere the sun is shining!

Lithium-Ion Power System – This new system offers 70 percent more usable energy than our standard AGM battery. It includes an upgraded onboard charger, which doubles device charge rate, and an advanced battery monitor. These components are Bluetooth enabled and integrate with a free smartphone app to provide a simple power management setup. This addition truly takes the modern teardrop to the next level with seamless connectivity.

Interior lighting options – From multi-color LED lighting in the headboards to bendable galley lighting for directable illumination to our Stargazer package, which includes cabin front reading lights, dual USB outlets and device shelves on each side, we have lighting options to help you build out your dream teardrop camper.

Are you ready to get started with your very own custom teardrop trailer? Check out some of our additional luxury teardrop camper features.

Climate control, interior lighting options, and plentiful storage space make seeing the country in your Vistabule more comfortable.
Teardrop Camper Windows
Most traditional teardrop campers have a small window in the door, and possibly 1-2 other windows in the cabin that offer a glimpse of the outdoors. But when you're out camping, you want to be able to enjoy the wilderness, even when you're relaxing on the couch or laying down in bed. That's why at Vistabule, one of the most distinctive features of our teardrops is the huge front window built into our campers.
Positioned right at the front in the cabin area, this window to the world lets you take in the amazing scenery during the day or stargaze at night while lying comfortably in bed. It lets in tons of natural light, so the camper feels cozy and not claustrophobic.
Teardrop Camper Air Conditioning
While many modern RV trailers have air conditioning, when it comes to tiny teardrops, it's a luxury. But when you want to be able to enjoy being outdoors, trying to sleep in a hot and humid tent can be truly miserable.
Adding a small air conditioner can bring a lot of comfort when you're in the wilderness, and that's why Vistabule campers can be equipped with a 5000 BTU air conditioning option. This 120V unit is like a small window air conditioner you might find in someone's home so requires being plugged into an electrical hookup or portable generator.
Teardrop Trailer Accessories
Today's teardrop campers have many of the creature comforts you need to take your camping experience to the next level. From customizable kitchens with plenty of storage and other features to a completely cozy sleeping space with plenty of room to stretch out and places to keep your stuff.
The sky's the limit when it comes to the combination of options and features available for teardrop campers, including colored mood lighting, retro countertops and hatch bat wings for style and comfort.
If you're interested in getting a teardrop camper but are worried about it not being comfortable or having to leave some of the luxuries of home behind – fear not! A teardrop is truly a tiny home on wheels that can be customized with style and functionality to let you enjoy many of the comforts of a home away from home.
To get started on your own Vistabule journey, download our pricing worksheet or get in touch with our team and we'll be happy to answer your questions.