Summer is officially here, and for many people, that means spending lots of time outdoors and plenty of nights camping under the stars. Beyond traditional tents, RVs and pop-up campers, teardrop trailers are a popular choice for those who want to get out and explore the great outdoors with some of the creature comforts of an RV, but without the larger tow vehicle, offsite storage or maintenance needed for the behemoth rigs. These little haulable homes are perfect for exploring almost anywhere, even those enticing backroads and harder to reach destinations. Another notable plus is that teardrops are typically welcome in "tent" campsites so you can sidestep RV parks where nature can often be obscured by the backdrop of large rigs.
What is a Teardrop Camper?
As described by its name, it's easy to identify a teardrop camper by its shape. Measuring about six feet wide by 10 feet long by five feet in height, the large, round front portion of the camper tapers down toward the back side of the camper, creating a teardrop-shaped profile. A person sleeps inside in a space known as the cabin and the back pops open to present a galley used for storage, cooking and cleaning. Teardrops generally have a vintage look to the outside, but with many of the modern comforts of today's world.
You can't stand up in a classic teardrop camper and there won't be a bathroom or shower inside. There are typically two standard sizes of teardrop trailer: the 4 x 8 model and the 5 x 10 model. The 4 x 8 models are usually cheaper than their 5 x 10 counterparts. Trailers big enough to stand up in should generally be considered to be in a different class of trailer altogether -- even if they happen to be teardrop-shaped -- given the storage, towing weight, and system complexity implications.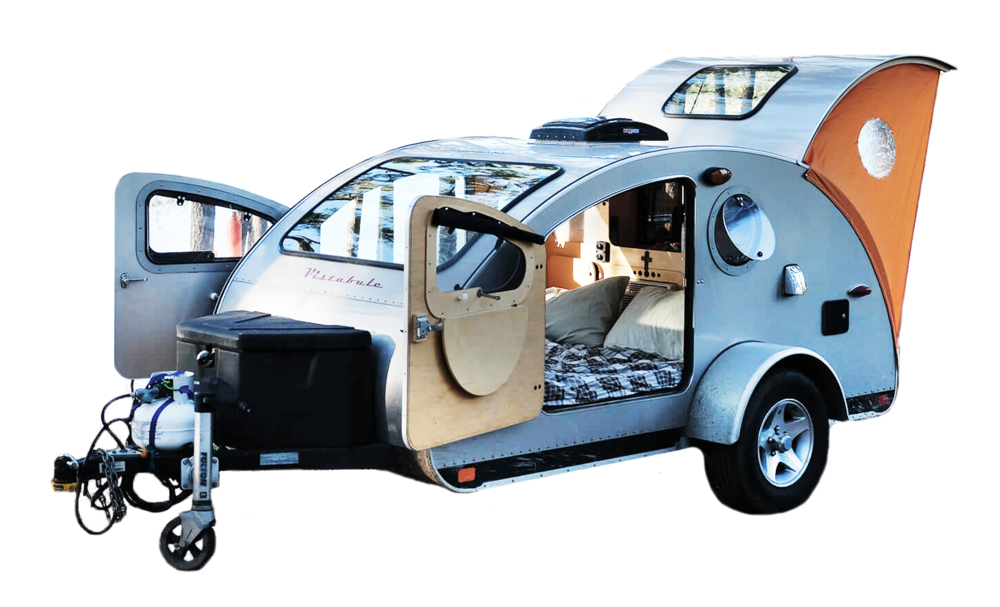 "Teardrops generally have a vintage look to the outside, but with many of the modern comforts of today's world."
Teardrop Camper Parts and Components
The three main components of a teardrop camper are the galley, cabin and trailer. These three teardrop trailer parts work in conjunction to provide users with a mini home away from home.

Galley
The galley is located in the back portion of the teardrop. The user opens a hatch to access the galley. Basic teardrops won't have anything special located here beyond simple storage for camping supplies. Luxury teardrop campers, however, can feature high-end amenities like a stovetop, faucet, efficient storage for all things food-related, and even refrigeration.
Cabin
The cabin is where the person sleeps, and can comfortably fit two adults. In general, the cabin includes enough space for a queen-size mattress, includes access doors and a rooftop vent to provide airflow. Of course, the cabin can be professionally customized in almost any way to provide the user with their ideal comfort-level – from TVs to mood lighting to extra windows and more.
Trailer
The trailer serves as the chassis that the cabin and galley sit upon. The trailer is easily attached your vehicle via a ball and hitch for convenient towability. On the front of the trailer, there is usually a container for extra storage of road supplies, as well as a place for a propane tank or battery to provide the necessary power for items like a stove, lighting and heating/air conditioning systems.
Cabin design, feel and accessibility: Cabin designs vary widely across teardrop camper models. Most manufacturers anchor to the classic teardrop shape with a higher blunt nose and tapered tail. Cost considerations drive decisions on the type and grade of materials used to build and finish any teardrop. Additionally, windows and doors, which are commonly off the shelf designs, tend to be small, rectangular and flat. These can make entry & exit more difficult and result in a somewhat claustrophobic or cave-like feeling inside. Most luxury teardrop models push beyond one or more of these limitations to achieve specific goals - incorporate larger custom designed doors and windows that maximize light, ventilation, accessibility and overall comfort - innovate on the form to elevate aesthetics, improve ergonomics and functionality - even add colors to mix because color is fun.

System design: The more sophisticated systems get the more important it is to design them well. Whether it's electrical, plumbing or cabinetry, a design that's easy to understand, use and maintain should be the goal. Visbaule's systems are designed to work well for owners of all experience levels and delivers years of camping adventures.
Many boutique, luxury teardrop trailer companies are doing their part to support their local communities. Vistabule, for example, sources most of our parts and outside fabrication services from our home state of Minnesota and creates desirable urban manufacturing jobs in our St. Paul factory.

Those looking for a more custom teardrop camper solution that includes more than just the basic components should take a look at our offerings. Our basic package is anything but. With this package, you get a healthy balance of functionality, comfort and affordability, including a convertible sofa bed, multiple windows, storage in the headboard and under the bed, a collapsible sofa table, interior lighting and more.

Clients are free to customize further, with our offering of special additions that make the teardrop experience even more comfortable, with upgrades like:
Cooktop and Fresh Water System
This is our most popular add-on combination. This 2-burner propane cooktop provides you with an easy way to cook meals on the road, while the fresh water system supplies you with a 9-gallon water tank, pump, sink, faucet and sprayer.
Pullout Cooler and Refrigeration Cabinet
Keep food fresh for longer with this convenient pullout cabinet, the perfect size for a cooler or small refrigerator. This setup also features an additional three-drawer cabinet with a breadboard for preparing food and additional storage for kitchen utensils.
Propane Furnace
With this propane furnace, you can travel through any climate, no matter how cold. Whether you're in the Rocky Mountains or the Pacific Northwest, you can extend your camping season with a high-powered furnace.
Rooftop Solar Panels
Get off the grid by installing these seamless rooftop solar panels. Flexible rooftop panels are capable of matching typical 12V power needs, including refrigeration for days when the sun is shining.
Lithium-Ion Power System
Introduced as a Vistabule feature in early 2019, lithium-ion power is our newest add-on feature.
Providing 70% more usable energy than our standard AGM battery, this system includes an upgraded onboard charger, which doubles your charge rate, and advanced battery monitor. These components are Bluetooth enabled and integrate with a free smartphone app to provide a simple, impressive power management set-up.
Teardrop Camper Weight and Dimensions
Teardrop camper features, including weight and dimensions, vary by manufacturer, although most teardrops are either 4 x 8 or 5 x 10. Here are the Vistabule's dimensions:
Body length - 10 ft

Total length - 14 ft

Body width - 5 ft

Width including wheels & fenders - 6 ft 10 in

Tongue weight - 130-160 lb

Approx empty weight - 1200 lb

Approximate weight with gear, propane & water - 1500 lb

Why Buy a Teardrop Camper?
In terms of the types of RVs, teardrops are more comfortable than a tent or pop-up camper and less cumbersome than a large motorhome. Beyond this, there are several other reasons why buying a teardrop camper is worth it:
Affordability without sacrificing quality: the average price of a motorhome hovers around $100,000. Pop-up campers, while the most affordable option beyond a tent, can still range from $5,000 - $10,000 for a mid-level option (not to mention on-going maintenance costs and their tendency to quickly depreciate). Luxury teardrops start at the $15,000 - $20,000 range and retain their value over the long term.
Convenience: all you need to do is hook up the teardrop to your car hitch and hit the road. Thanks to their lightweight and small footprint, they can easily fit in your driveway or garage and can be towed behind almost any car with a hitch.
Go anywhere design: unlike larger motorhomes and towables that are restricted to campgrounds and designated parking areas, teardrops can go wherever your car can. With a teardrop, there's no need to stay at a campground – now you can get off the beaten path and have a true adventure.
"With a teardrop, there's no need to stay at a campground – now you can get off the beaten path and have a true adventure."
Benefits of a Teardrop Camper
In comparison to a van or tent, teardrop campers provide a few benefits that the others do not.
Teardrop Camper vs. Camper Van
One of the biggest disadvantages of a camper van is the fact that you have to take your campsite with you wherever you go. Let's say you want to spend a few days at a campsite. With a teardrop, simply unhitch the trailer and take your normal vehicle into town for supplies and provisions. With a van, you have to pack everything up and leave the campsite completely.
Teardrop Camper vs. Tent Camping
Have you ever camped in a tent during a rain deluge? It's not very fun, no matter how much waterproofing you have in place. In a teardrop camper, on the other hand, lounging comfortably in your cabin's soft, queen-sized bed and listening to the pitter-patter of rain against the roof becomes a cozy experience. Remember to bring a good book!
History of Teardrop Campers
Teardrop campers are one of the oldest forms of RVing, born in the days of the Great Depression when many people were losing their homes. Because of the harsh economic environment, people began building their own trailers as shelter and a way to travel to greener pastures in other parts of the country, looking for work.
Before the days of mass-produced giant motorhomes, teardrops offered a way to live and work on the open road while bringing some provisions and amenities along for the ride. The members of the Civilian Conservation Corps (CCC), who built America's roads, bridges and infrastructure, used these little workhorse trailers to haul job supplies, tools and equipment, along with their personal items.
In recent years, the teardrop camper industry has experienced a resurgence in popularity, thanks to the unique mix of affordability, comfort and convenience – and possibly the nostalgia of another time – that they provide.
Teardrop Camper Prices: How Much do Teardrop Campers Cost?
Teardrop camper prices can vary from a few thousand dollars to $20,000 and up depending on brand, style and customization. Vistabule's base luxury package, for example, starts at $17,995 and increases based on add-on's.
Are you ready to take off on a new adventure in your very own, custom-built teardrop camper? Then download the pricing sheet below or visit our pricing and options page to learn more about specific pricing, packages and add-on options.
Buying vs Building a Teardrop Camper
While shopping around for a teardrop camper that's right for you, you may consider a DIY option – of which there are tons of plans (both free and paid) through RV companies and tutorials on the web. If you have plenty of expertise, time and the right tools, you may consider it. Let's examine the pros and cons of building vs. buying a teardrop camper:
Pros of Building vs. Buying a Teardrop
If you already have the right tools and are able to find supplies at a good price, you could save a few bucks. DIY trailers average about $3,000 (although the costs can quickly add up with special customizations), whereas you can find a new basic models for around $5,000.
You have complete control of the process from start to finish. Maybe you've dreamt up an awesome idea want to implement it. You're only limited by your handiness and bank account.
Cons of Building vs. Buying
Building your own teardrop camper isn't a weekend project. It's an involved process that will take you a few weeks, a few months, maybe even a few years depending on your life schedule. Sometimes, saving time is worth the extra cost of buying new or having a professional build a custom camper for you.
When you buy from certain companies, rather than build, you have the opportunity to work closely with the manufacturer to customize your trailer using the existing options. For example, when working with a custom teardrop company like Vistabule, you can choose from dozens of add-ons to create a combination that's truly your own. When you build DIY trailer, on the other hand, you'll have to do everything on your own.
What it Takes to Build a Teardrop Camper
The Vistabule build process starts with high quality materials that are carefully selected for the application. We partner with skilled fabricators that have expertise in the areas we've chosen not to own in-house: CNC routing, laser cutting and welding, for example. These partners are very good at what they do and deliver the quality components required to build what owners consider the best teardrop camper on the market. None of this would be possible without an extremely refined, space-efficient design that took years to achieve.
"The Vistabule build process starts with high quality materials that are carefully selected for the application."
The teardrop trailer construction process requires a few things:
Time – this is a big one. We all know how it goes; you start a project with gusto, and before you know it, your interest fizzles and the project falls by the wayside. Building a teardrop will require a consistent effort on your part. After all, it's not like you're building a birdhouse. You're building a haulable house.

Money – you probably won't be able to take out a loan for your DIY project, like you would when buying a vehicle from an official RV company. So, you better have some cash on hand. About $3,000 for a proper build, which can quickly balloon with added customizations, and the many, many, many trips to the hardware store that come with any DIY project.

Expertise – while you may be handy, are you comfortable building something that has the potential to injure you or others while driving down the highway thanks to shoddy construction? Think through every scenario before deciding if this is something that you can and should take on.

Access to supplies – you most likely want something more than a plywood box sitting atop an old utility trailer. So you're going to need some special supplies like metal siding and/or trim, automotive paint, electrical systems, water pumps and more.

Access to tools/construction equipment – if you already have some specialty construction equipment, like welding tools and large table saws, then you may stand a fighting chance at bringing costs down on your DIY teardrop. If you don't have access to these tools, then buying is the more economical choice.

Dedicated well lit space for duration of build - a significant amount of space is required to build your own teardrop. Consider the footprint of the finished trailer as well as buffer space around it for yourself and tools plus and pre-assembly work areas you'll need.
Teardrop Camper Plans
Look to these roadworthy resources if you're considering building a DIY teardrop trailer:
Where Can I Buy a Teardrop Trailer?
Most Vistabule buyers have spent months or even years arriving at a decision to purchase a teardrop camper. These buyers have usually digested a significant amount of research -- Youtube videos, websites, blogs, etc. -- and are ready to be guided through their remaining questions to finalize option decisions. As a direct seller, we take a no-pressure approach and strive to get customers to an informed, confident place through phone calls, emails and showings. Once decisions are made, a ⅓ down payment secures a spot in the production queue and delivery usually takes place 5-6 months later.

With a teardrop trailer, new adventures await. Traveling to far-off destinations, exploring the backcountry, spending time with family and friends – all at an affordable price and maximum comfort. It's possible with your very own haulable home.

Do you want the freedom to travel the country on a whim? Then contact Vistabule today. Each of our custom-built campers is exquisitely designed and carefully-built specifically for its owner. With our many custom options, you're ready for any climate, any occasion and almost any location. Download the pricing worksheet below or get int ouch with our team today to learn more.
Other Teardrop Camper Manufacturers
While we may be partial to our own Vistabule teardrop trailer, we're not the only game in town. Below are links to some of our other friends in the teardrop trailer business. Every manufacturer has its own unique take on what's important in a teardrop, and those priorities are reflected in the trailers' design, specifications, and features.